About this product
The Mateksys CAN-L4-PWM is an Adapter Node based on ArudPilot AP_Periph firmware. This adapter turns DShot capable ESCs into CAN ESCs, including full ESC telemetry. This adapter can also turn PWM servos into CAN servos.
Features
ArduPilot AP_Periph MatekL431-Dshot Firmware
AP_PERIPH DroneCan TO PWM Adapter
1 CAN, DroneCAN Protocol
9 PWM outputs (8x Dshot)
4.5-5.5V Voltage Range
LED Indicator Lights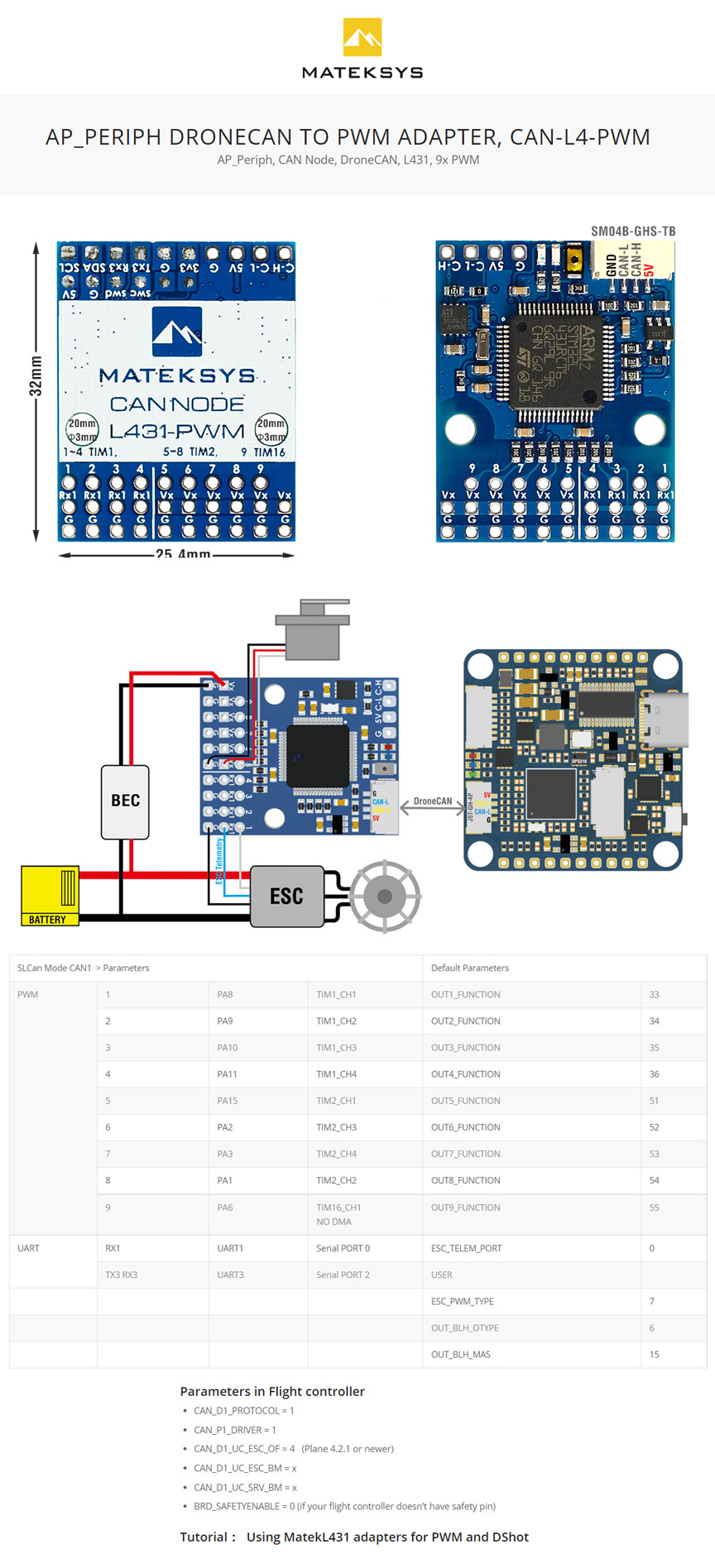 Specifications
LED: (Blue, Fast blinking, Booting)(Blue, Slow blinking, working)(Red, 3.3V indicator)
Firmware: ArduPilot AP_Periph MatekL431-Dshot (Update via DroneCAN GUI Tool)
"Rx1" pads are for ESC Telemetry, DO NOT connect ESC BEC output to Rx1 pad.
Input voltage range: 4.5~5.5V @5V pad/pin
1.5x UARTs: UART1, RX1 – UART3, Tx3/ Rx3
Operating Temperatures: -20~80 °C
Mounting: 20mm. Diameter – 3mm
MCU: STM32L431xC, 256KB Flash
ST debug, SWCLK & SWDIO
Power consumption: 30mA
Board Size: 32×25.4mm
Weight:3.5g
"Vx" pads are for powering servos via external BEC. "Vx" is not connected to other components on this board.
Includes
1x MATEKSYS AP Periph DroneCAN to PWM Adapter – CAN-L4-PWM
1x JST-GH-4P to JST-GH-4P 20cm silicon wire