About this product
RUSH BLADE F722 30×30 Flight Controller by RUSHFPV for your  DJI Digital FPV System. This FC features high-performance STM32 F722 MCU, MPU6000, and Onboard OSD.

Features
High-performance STM32 F722 MCU with speeds up to 216MHz. • Using MPU6000 with integrated accelerometer and gyroscope, stable and reliable.
Built-in16M black box,Barometer,5 UART ports, 6 pwm output ports, 2 ADC ports, 1 l2C port.
Integrated dual 40V input synchronous rectifier power supply, and built-in power filter, up to 8S lipo battery power supply, 5V SA /10V 3A output provides sufficient power, you can connect more external devices.
Modular cable design, with reliable locking structure, can be installed quickly, while retaining full-featured pads on the back, providing more expansion support.
Optimized for stack installation, the single-sided component placement method makes the thickness thinner, and the bottom is covered with complete copper to resist ESC Interference.
The full-covered lightweight metal shell protects internal electronic components and provides perfect heat dissipation.
Specifications
MCU: 216MHz
GYRO: MPU6000
OSD: Onboard
Input Voltage: 3-8S
BEC: 5V/5A 10V/3A
Mounting Holes: 30.5mm x 30.5mm
Wiring Diagram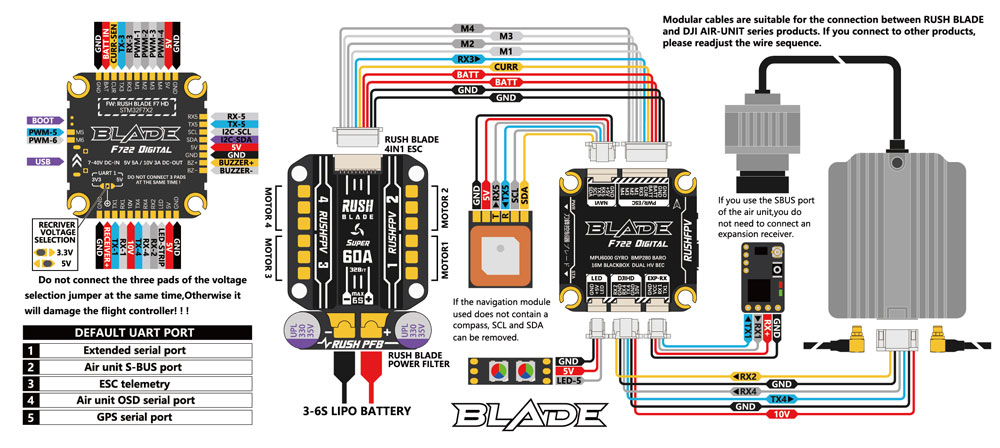 Includes
1 x RUSH BLADE F722 30×30 Flight Controller For DJI HD
2 x 60MM LED/RX Cable
1 x 60MM ESC Cable
1 x 110MM NAVI Cable
1 x 110MM Air Unit Cable
5 x 8MM Grommet
5 x 5MM Grommet