The Lumenier AXII 5.8GHz Patch Antenna offers you the highest performance you can get from a mini patch antenna designed for FPV. The Lumenier AXII Patch has an industry leading 8.4 dBiC gain for long range flying and excellent penetration through objects compared to standard omnidirectional FPV antennas. It also features a best in class 95% efficiency (most mini patch antennas are below 75%), which means you get amazing performance and the best picture in your video goggles. Lumenier, designed in collaboration with renowned FPV antenna designer Hugo of TrueRC, brings you the Lumenier AXII 5.8GHz Patch Antenna.
The Lumenier AXII Patch Antenna features an ultra-thin active element suspended above the reflector, which allows for a higher velocity factor and lowers losses. This technology along with precision manufacturing results in a top of the line receiving antenna. It works great on both video goggles or ground stations for 5.8GHz, and capabale of receiving signal up to many miles away.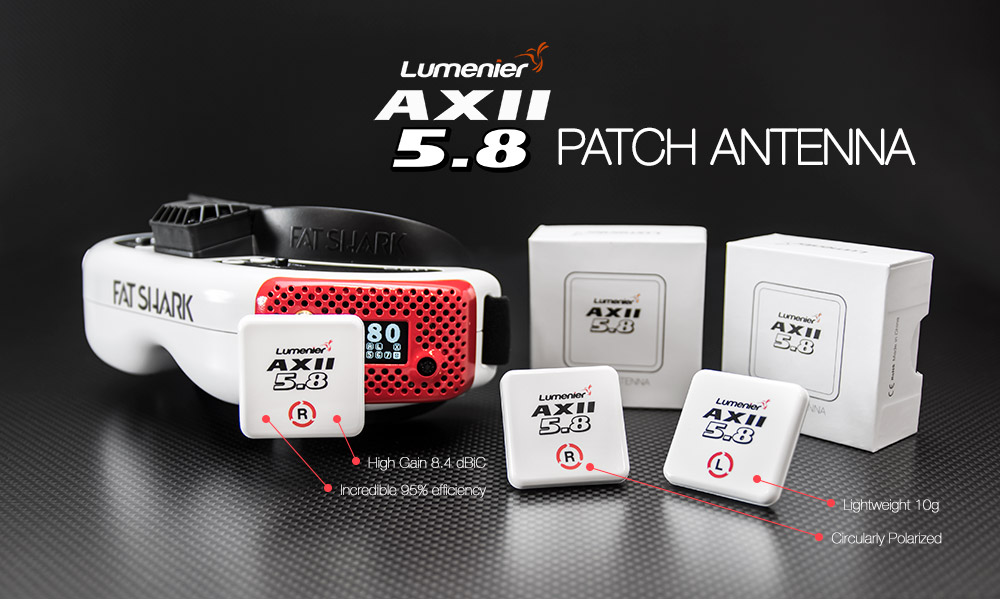 Features
Circularly Polarized
High 8.4 dBiC
Incredible 95% efficient
Wide 76 degree beam width
Compact low profile design on your goggles
Designed for goggles or base stations
Specifications
Frequency: 5.8GHz
Bandwidth: 220 Mhz
Gain: 8.4 dBiC
Beam Width: 76°
Right Hand Circularly Polarized
SMA Connector (Fits Fat shark Goggles and others using SMA)
Dimensions: 35mm x 35mm x 9mm (20mm with SMA)
Weight: 10grams
Includes: 1x Lumenier AXII Patch Antenna 5.8GHz (RHCP/LHCP)
Click here to explore our collection of Lumenier Antennas.