Diatone's Mamba series gives racers an edge in competition. The latest F7 processing technology with rock-solid power from the ESC means you can focus on flying, not on the limits of your equipment.
F722 APP Update Details
BT to WiFi
USB power supply can use receiver, OSD
Add a group of I2C pads (SCL SDA)
Add inverter Dual-Way TX serial port
Add 2812 LED switch function, key can turn off led
Add 4 corner LED interface to support BF led and Mamba led
Upgrade to stronger type-C, optimize pad position
With a wide range of setup options and features, you can configure your stack however you'd like. It even has a dedicated LED controller and broken out LED pads for easy hookup. (LEDs not included)
Note: The STM32F722S generates much heat, please leave at least 5mm on both sides of the FC to give good air circulation.
Specifications
FC Specifications
MCU: 216MHz STM32F722RET6 32BIT
IMU: MPU6000
Barometer: No
OSD: BF OSD
Blacbox: 16M Flash Memory
Uarts: 6Set
ESC Soft: Dshot300/600/1200
ESC Telemetry: RX6
LED indicator: Blue&Orange for FC Status,Green 9V,White 5V,Red 3.3V
LED Controller:BF LED/MB LED (4 Set 2812 LED)
WIFI: SpeedyBee APP
Smartaudio: Yes
Buzz: Yes
Input: 3~6S Lipo (12.6~25V)
TVS Protection: Yes
BEC: 5V 2.5A & 9V 2A (Max 3A)
MOUNTING: 30.5mm/M3 WEIGHT: 9g
Supply :
8pin sh1.0 *1
Smartaudio: Yes
Buzz: Yes
Input: 3~6S Lipo (12.6~25V)
VTS Protection: Yes
ESC Specifications
INPUT VOLTAGE: 3~6S Lipo (12.6V~25V)
CONTINUE CURRENT: 50A×4
BURST CURRENT: 60A (10S)
BEC: NO
ESC Dshot300/600/1200
MOUNTING: 30.5mm/M3
Supply: Panasonic High-Frequency 470uF/35V
Mounting: 30.5×30.5mm, Φ3
Dimensions:
Weight: 22g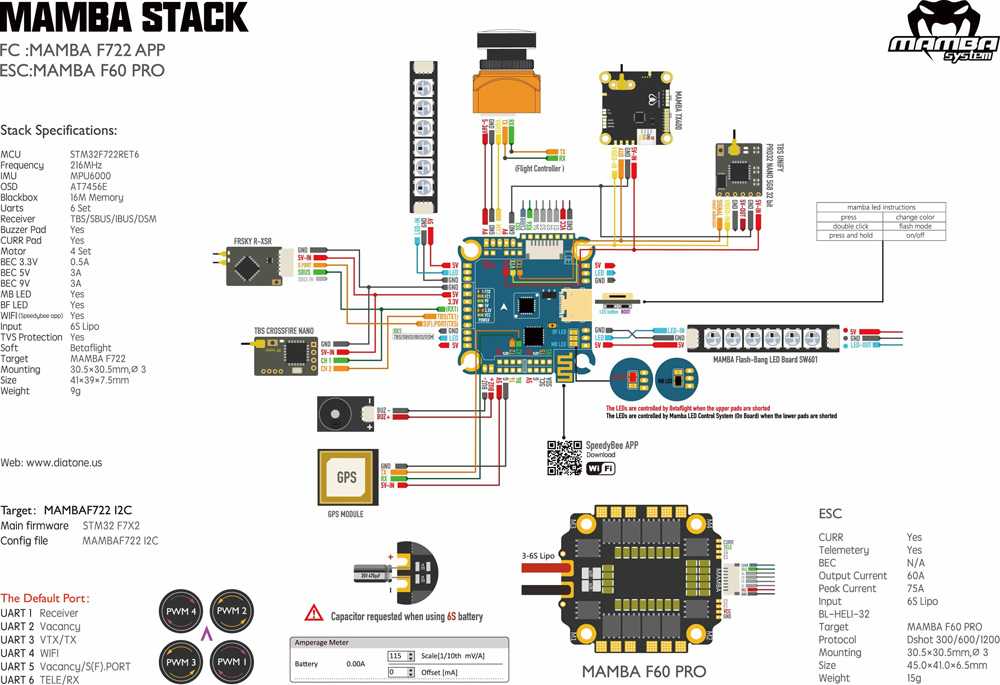 Includes
1x Diatone Mamba F722 APP WIFI F50PRO Stack